UX Delivery Manager
Job Introduction
***In light of the coronavirus (COVID-19) and to protect our candidates' and interviewers' health and wellbeing, we will be conducting all BBC interviews virtually via Zoom/Skype/TribePad for the foreseeable future***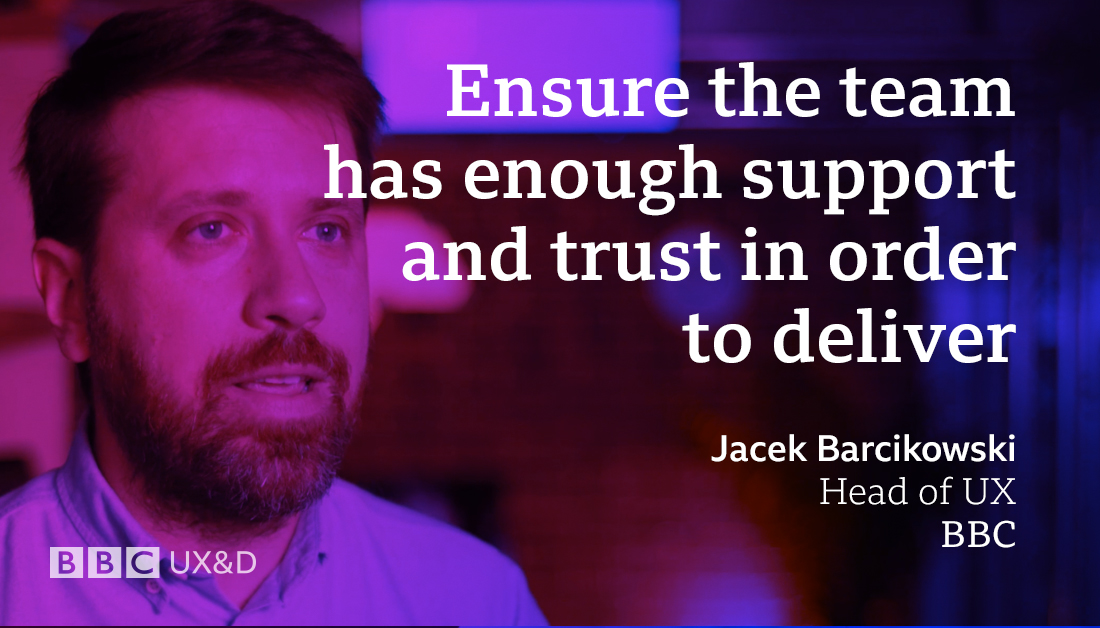 We are looking for an experienced, professional and enthusiastic UX Delivery manager to join BBC's User Experience and Design team (UX&D). In UX&D you'll get to work with colleagues that apply human-centered design to BBC's amazing digital experiences, from apps to websites, from iPlayer to CBeebies.
We're part of Design & Engineering, a division delivering world-class experiences to audiences across the world, and helping create a BBC that's truly fit for the future.
This will be a 12-month fixed term contract for external staff or a 12-month attachment for internal staff
Role Responsibility
Facilitate the smooth running of the User Experience Design team within a BBC product area. Help integrate the team into the multi-discipline product crews to optimise ways of working.
Collaborate and work with the Creative Directors to enable the wider team to produce high-quality work. Facilitating the sharing of best practice and spot where efficiencies can be made.
Managing the health and happiness of the team so they can focus on what they are best at. Improving the horizontal team routines by running retrospectives and finding out what techniques other delivery management teams use.
Manage all of the requests for UX&D that fall outside of crew related work. Be the point of contact for the team for any UX requests.
Keep the team processes up to date using best practice methodologies & software, as well as managing all third party related administration.
Are you the right candidate?
Experience of project and account management in a design/digital environment or similar.
You've got strong project management skills, plus understanding and experience of Lean and Agile Development principles and methods.
You have experience planning and delivering projects using human-centered design approaches.
You're an excellent communicator, people manager, and team player, always listening and watching for how to improve ways of working.
You're a thinker and a doer. You have vision, enthusiasm, energy, and integrity. You deliver to high standards. You make things happen.
Package Description
Band: D
Contract type: Fixed Term Employee/Attachment
Location: Salford
We're happy to discuss flexible working. Please indicate your choice under the flexible working question in the application. There is no obligation to raise this at the application stage but if you wish to do so, you are welcome to. Flexible working will be part of the discussion at offer stage.
Excellent career progression – the BBC offers great opportunities for employees to seek new challenges and work in different areas of the organisation.
Unrivalled training and development opportunities – our in-house Academy hosts a wide range of internal and external courses and certification.
Benefits- We offer a competitive salary package, a flexible 35-hour working week for work-life balance and 26 days (1 of which is a corporation day) with the option to buy an extra 5 days, a defined pension scheme and discounted dental, health care, gym and much more.
About the BBC
We don't focus simply on what we do – we also care how we do it. Our values and the way we behave are important to us. Please make sure you've read about our values and behaviours in the document attached below.
Diversity matters at the BBC. We have a working environment where we value and respect every individual's unique contribution, enabling all of our employees to thrive and achieve their full potential.
We want to attract the broadest range of talented people to be part of the BBC – whether that's to contribute to our programming or our wide range of non-production roles. The more diverse our workforce, the better able we are to respond to and reflect our audiences in all their diversity. 
We are committed to equality of opportunity and welcome applications from individuals, regardless of age, gender, ethnicity, disability, sexual orientation, gender identity, socio-economic background, religion and/or belief. We will consider flexible working requests for all roles, unless operational requirements prevent otherwise.
To find out more about Diversity and Inclusion at the BBC, please click here
Apply